There are 14 artists that make up the music in Soundodger+, as well as 11 that make up the DLC packs. Some are very popular and renowned (Danny Baranowski), and others were just starting with the game (Sonic).
Disasterpeace (Richard Vreeland)
Edit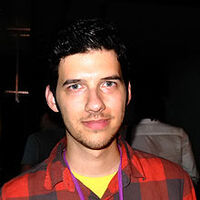 Richard Vreeland (Disasterpeace) is an American composer that got his start on chiptune music. He made the music for the 2012 indie video game "Fez" and later went on to creating the score for movies like the 2015 film "It Follows". The song that Vreeland has created for the game is "Daisy Wheel".
Ghost Kollective
Edit
Ghost Kollective is a band that debuted in 2006 with the song "State of Everyday Madness". The song they made for this game is "Dummy"
Mike Forst
Edit
Mike Forst contributed to this games' soundtrack with "Katapult" and "I Do, What I Want"
Danny Baranowsky
Edit
Danny Baranowsky is an American electro composer who has created the soundtracks for many indie games, such as Canabalt, Super Meat Boy, The Binding of Isaac, Crypt of the NecroDancer, etc. He also contributed to the soundtrack for 2014 Amplitude remake. He created the song "Kirkhope"
Louis Gorenfeld
Edit
Louis Gorenfeld has made the song "MIDI Murder Box"
Bill Kiley
Edit
Bill Kiley is a chiptune artist who made the soundtrack for indie games such as "Pause Ahead" and "Why Am I Dead At Sea". He made the songs "Foxtail Socks", "Ye Olde Future", "Glowing Cubes", and "Rake Leaves Into Piles"
Sonic (Jasper Byrne)
Edit
Jasper Byrne is a DnB artist who started from 1999. He made the soundtrack for "Hotline Miami". He made the song "Distant Stars"
Chelsea Howe
Edit
Chelsea Howe is a game designer. She has worked at Zynga and is a personal friend of Michael Molinari, the developer. She made the song "A Walk In The Park".
Terence Lee
Edit
Terence Lee composed the soundtrack for an indie game named "Dustforce". He created the songs "Chloroplast Skin" and "Forgotten Tea".
Austin Wintory
Edit
Austin Wintory is an American orchestral composer that created the score for the games "Journey" and "Assasins Creed Syndicate". He supplied the song "Lost Age" for Soundodger+.
Dwight Howard
Edit
Dwight made the songs "Outside Wars" and "Waves From Nothing"
Michael Molinari (Bean)
Edit
Full page here.
Ian Hicks
Edit
North Base
Edit
Jukio Kallio
Edit
Eirik Suhrke
Edit
Adam Drucker
Edit
Niamh Houston
Edit
Ben Prunty
Edit
Timothy Lamb
Edit
Tommy 86'
Edit
Eric Sferro
Edit
Chris P.
Edit
Alex Esquivel
Edit